Keeping your process under control is essential. With the investment and hard work put into any process, why risk the safety and effectiveness of an end product from poor temperature control?
Temperature monitoring and control devices are an integral part of any laboratory within the pharmaceutical sector. However many people still underestimate the importance of having an adequate monitor in place and when looking to replace chillers in a system, simply replace the old temperature control unit with the same size and type. Or for new applications, utilise existing equipment on site. This can lead to unnecessarily high running costs and reduced equipment life cycle, ultimately placing the process at high risk. As we know, small fluctuations in process temperature can make a significant impact on the results.
Therefore it's important to consider the following points…
How reliable is your temperature control?
1. How long has your current solution been in place?
Is your system fit for purpose? Without thorough analysis of your process control solution and consideration of it's life span, you may be overlooking it's effectiveness.
2. Is your current solution offering you the best value for space?
We often hear that space is at a premium in many laboratories. The sizing of the correct temperature control equipment in your process can help in Quality By Design systems. By firstly ensuring the controls maintain process quality, secondly by highlighting any areas where there may be a process problem. Even with accurate control, your system may see temperatures outside of the determined parameters due to other equipment failure. In this case, the temperature control unit can be used to sound alarms for manual intervention or feed out to other equipment for automatic adjustments
3. Does your solution fit with your requirements?
Temperature control is not just about cooling. Some applications such as maintaining process parameters in a Bio-Reactor may need cooling and heating capabilities within the same batch, and so some temperature control units are available to cover heat loads of exothermic and endothermic requirements.
It may be the case that your temperature control solution fit well with your original design, but as time has progress you have worked around it and overlooked whether you're using the most effective solution. Ultimately this could affect the outcome of your process.
A Complete Solution?
By controlling the automation of a process through SciLog systems and pumps with the temperature control units of SMC, a complete control solution is delivered including valves, pumps and chillers.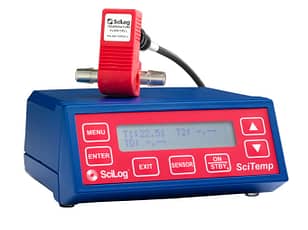 This type of solution would give temperature, pressure, flow, and diagnostic control to your process at various scales. The HRS Series chiller range gives some excellent features to the end user with real benefits without the large cost implications. 
The units are available in air cooled and water cooled options with temperature stability of +/- o.1° C and a temperature range from 5°C to 40° C, ensuring processes are maintained within tight parameters and the same unit can be used on different applications. The specialist advanced control functions ensure that abnormalities and errors are quickly detected before any real danger can occur.
With a strong background in automation and partnerships with world leading innovative manufacturers, BioPharma Dynamics are able to work with you to specify the best temperature control unit to meet your process requirements. If you are looking for a no obligation survey of your systems, or just to discuss your temperature control requirements, then contact us today.