Last week, BioPharma Dynamics took a day out of the office, to make an extra special delivery to our friends at Combat Stress.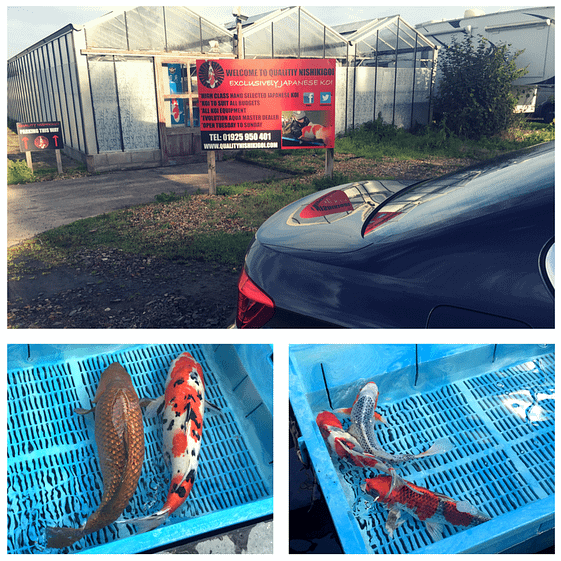 As a company deeply rooted in the business of health, we care about the wellbeing of people and the wider environment around us. In addition to supporting the valuable work our fantastic customers carry out, we're proud to support the excellent work of Combat Stress, who are the UK's leading veterans' mental health charity.
The charity provide specialist clinical treatment and welfare support to UK veterans with mental health conditions including Post Traumatic Stress Disorder (PTSD), depression and anxiety. Through three short-stay centres in Ayrshire, Shropshire and Surrey, they offer evidence-based specialist treatment programmes to help Veterans rebuild their lives.
Gone Fishing?
We took a visit to their excellent facility in Surrey, along with our friends at Quality Nishikigoi of Warrington, to donate some beautiful Japanese Koi to their reflection and relaxation pond. The pond is set within beautifully landscaped gardens, that offer a serene and tranquil environment for those who visit the centre.
It was a pleasure to watch on as the fish were introduced to their new home, the two large fish from BioPharma Dynamics, whilst the three smaller fish were generously donated by Tim Waddington of Quality Nishikigoi. Further sponsoring the food for all the fish over the next two years, we look forward to continuing our support to this excellent charity.
Visiting Combat Stress' facility
We were blown away by the tireless work that Combat Stress puts into supporting veterans – it was clear to see how valuable they are to ex-servicepeople and their families, in providing help and support in their time of need.
The facility's warm and friendly atmosphere allows Veterans to feel at home, amongst other Veterans whose experiences may be similar to their own. The length of stay can vary from two days to six weeks, where veterans can receive specialist treatment and care from a team of dedicated professionals.
How do Combat Stress help?
Mental health issues can affect ex-servicemen and women of all ages. With more than 6,000 veterans registered with them, the charity offer a vital lifeline for veterans and their families, the youngest of whom is just 18 years old.
Since 1919, Combat Stress has provided a unique lifeline to Veterans suffering psychological injury as a result of their Service careers. To date, Combat Stress has supported almost 100,000 ex-Service men and women in coping with the mental impact of warfare. Spending £15 million a year delivering a unique range of specialist treatment and support, everything the charity provide  is completely free for the veteran.
Join us
Do you want to do something to help? Why not take part in the #22PushUpChallenge? A great way to raise awareness of veterans' mental health and PTSD, and at the same time make a donation to charity.
If you would like to take part in the challenge, you can post a video or photo to social media using the hashtag #22PushupChallenge, and donate £5 to Combat Stress by texting PTSD22 to 70004. You can also make a donation online.