The following is an extract from a white paper by our Partner Saint Gobain on extractables in Biopharm tubing and how they have minimised the levels of TOC's in the New Generation Sani-Tech® Ultra.
For several years, pharmaceutical manufacturing professionals have increasingly stated concerns about material leachables and extractables and their impact on the products they produce. Fluid transfer systems that include flexible tubing have been at the forefront of this discussion. To address these concerns, chemists and material experts within Saint-Gobain spent the last few years developing a silicone material that minimizes all potential contaminants. The product, Sani-Tech® Ultra, has the lowest
extractable level of any commonly used fluid transfer material and addresses the concerns of the industry with the most comprehensive body of testing available. Lot traceable, manufactured and packaged in a ISO Class VII clean room, Sani-Tech® Ultra is the next generation of silicone materials for pharmaceutical production.
The majority of silicone tubing used in the biopharm industry is for the transfer of aqueous solutions. As a result, it is important to know the level and type of extractables inherent in the tubing. A water extractable procedure is set up to measurement the total organic carbon (TOC) in Sani-Tech® Ultra tubing in this typical cycle and the procedure is described as following:
Two four-foot-long tube samples were autoclaved at 134°C for 60 minutes and then subjected to a deionized (DI) water flush. A profile of TOC over 20 litres of flush volume was obtained to assess the decrease of extractables by means of increasing flush volumes. Effluent samples were taken throughout the flushing, after 1, 3, 5, 7, 15, and 20 liter flushings. The TOC concentration of each sample was analysed using a Phoenix 8000 TOC Analyser based on persulfate-UV oxidation. The TOC flush profile of
Sani-Tech® Ultra 50 is illustrated in Figure 3.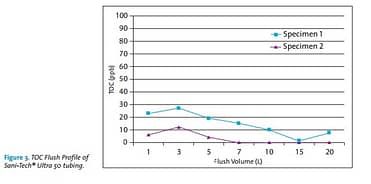 The TOC number is taken from the average of the TOC from all the tested samples. The TOC of the WIFI water effluent of Sani-Tech® Ultra 50 and Sani-Tech® Ultra 65 is summarized in Table 3 below
Contact us for more information on this White paper. [contact-form to='info@biopharmadynamics.com' subject='Wordpress Sanitech Ultra'][contact-field label='Name' type='name' required='1'/][contact-field label='Email' type='email' required='1'/][contact-field label='Comment' type='textarea' required='1'/][/contact-form]
For more information on Sani-Tech Ultra tubing and other products designed and tested specifically for fluid transfer Life Sciences sector contact BioPharma Dynamics, your local specialists.
Email: info@biopharmadynamics.com
Tel: 01235 750690
www.biopharmadynamics.info