Tangential Flow Filtration (TFF), also known as crossflow filtration, is a quick and reliable method for separation and purification of media in biopharmaceutical processes. Tangential flow filtration is commonly used in concentration and diafiltration processes.
In contrast to other forms of filtration, which media is passed through a membrane, as the name 'cross-flow' indicates, media is passed parallel to the filter which allows for a consistent flow, whilst the permeate is collected, the retentive is gently cycled through.
Using tangential flow filtration as your filtration method, not only ensures consistent results, but also protects both the filtered media and the collected permeate.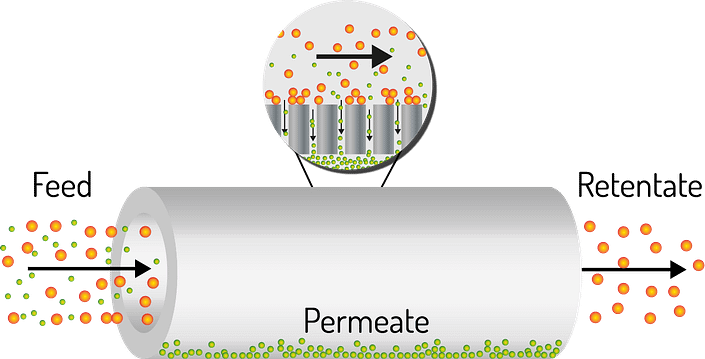 Hollow-fibre cartridges provide an easy, ready to use, self-contained TFF solution to suit your process requirements, which can be used for both microfiltration and ultrafiltration applications.
Benefits of Hollow Fibre Cartridges
Overall hollow fibre crossflow cartridges are 4-6 times more cost effective to purchase and to operate than a standard flat sheet cassette.
How can this be achieved? Well it's a combination of initial cost of the equipment, time saving and ensuring process integrity across all stages of production.
HUMECTANT FREE – With up to 80x less extractables compared to glycerine conditioned membranes, using the hollow fibre cartridge, eliminates time-consuming pre-rinsing and cleaning validation.
ANTIFOULING AND LOW BINDING for high product yields.
HIGHLY PERMEABLE to shorten process time.
EXTREMELY TIGHT SPECIFICATIONS for more consistent batch-to-batch and cartridge-to-cartridge results.
ROBUST MEMBRANES with a unique asymmetric macro void free structure produce a longer service life and a low risk of product loss.
READY TO USE AND SELF CONTAINED with no hardware installation required.
GENTLE PROCESSING of cells, biomolecules and viruses.
Which TFF filter cartridge is right for me?
BioPharma Dynamics offer 3 product lines that are designed to suit your individual process requirements –single use, autoclavable and reusable formats. Each of these hollow fibre membrane cartridges are manufactured using proprietary polyethersulfone (m-PES), which is 100% integrity tested and has complete traceability from raw materials to finished goods.
WaterSep hollow fibre products have been used in a number of different cell clarification and cell harvest applications, and in a wide variety of concentration/diafiltration steps.
Green Line – Single-use
Single use hollow fibre cartridges which are gamma irradiated, glycerin free, ready to use and self-contained, the Green Line is specifically developed for single use applications.
Read More »
Steamer Line – Autoclavable
Autoclavable hollow fibre cartridges which are gamma irradiated and ready to use, the Steamer Line is designed for cell perfusion and ATF™ applications.
Read More »
ReUse Line – Reusable
Reusable hollow fibre cartridges which are designed for multiple uses, the ReUse Line are able to be cleaned, stored and used repeatedly.
Read More »
Sizing and Scale-up
With 4 clear sizing options across each range (12", 24", 41" and 43") to enable easy and reliable scale-up or scale-down of your process, the level of filtration can be determined from the 8 different cartridge diameters. The range covers volumes from 10ml to 1500L and surface areas from 52cm² to 15.42m².
Our team can assist you in understanding which best suits your process and can help you to integrate this technology into your application. We are happy to discuss the typical applications that the Watersep range has been and can be used in, along with any particular process challenges you may be facing.
With WaterSep's proven background and expertise in hollow fibre filtration, together with BioPharma Dynamics experience in process solutions for the biopharm market, we are confident that we will be able to provide you with a solution for your filtration needs.